Not a new topic, but an interesting difference of the OEM and GM replacement rocker arms.
I bought a corvair rocker arm part #5723559 recently to compare to my used rocker arm. Before purchasing I checked my Parts book and it listed the 5723559 rocker part for all corvairs 1960-69.
There is another corvair rocker arms part #6255648 which appears to be an older number and replaced by the 5723559 based on internet info.
Below are comparative photos of an oem vair rocker from a known vair motor from 1969 which I still have and a newer rocker arm is the 5723559 which I recently acquired.
My question is not on the part number history, but the shape of the rocker arm as it pertains to function.
I laid both rockers on a flat surface and assuming that the tops are similar contour and measurements from the pivot points I measured a realistic 1/16" difference between the contact surfaces.
Again I am assuming the rocker body contours are similar to the pivot points and I have not cut one in half to confirm, but if all is same these later replacement rockers may be off by 1/16" and would not this affect overall lift?
OEM Vair rocker
Newer GM replacement rocker
Tell me I missed something simple?
Jimc
1965 Corsa Coupe, two owner history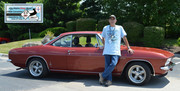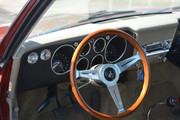 HACOA Member
CORSA 2017 Concours Senior Gold Award
AACA 2015 Award