There are a couple of things to consider when changing an air filter.
The stock systems are designed for most applications and uses.
--The paper filters in the original housing are 96 to 98% efficient at removing what the industry feels is common city dirt sized particles. For many vehicles, Companies like Donaldson have paper or paper/synthetic filters that take that to 99.99%
--These systems work by bringing the air into a chamber through a slight restriction to speed it up, then dump it into a large chamber where most of the dirt falls out from lack of speed, and the smaller particles hit the paper, most staying on the outside to increase the filtration area without causing restrictions or clogging. Eventually, the paper fills with particles that are too light to fall out and too heavy to get pulled onto the outside.
--When you eliminate the box, you eliminate the fallout and shorten the life of your filter.
The K&N type filters are really only about 85% efficient. The oil will add some adhesion of the small particles, while the very large won't get through, but an increased number of the midsized particles will get through, and those are the ones that hurt the engine, as they are too small to get caught by the oil filter.
Unfortunately for the 60, there is no paper filter that I can find, so I have Lon's K&N type filter. As you can see from my oil analysis, this is very unacceptable. This is city driving. "Silicio"is basically dirt (5ppm is anti-foam), while Hierro is iron, plomo is lead, and Cobre is copper. None of those wear elements should be over 2ppm for a long lasting engine.
In my spare time I am trying to make a paper element for the 60, Unfortunately most filters that size that I've found to adapt only handle about 20 to 30 cfm, where I calculate a need for between 140 and 170 cfm in the Vair.
So think about your trade-offs when changing your air filter.
Restoration in Bolivia
Richard's Mini Pickup
Richard's Corvair
Richard's Renault Dauphine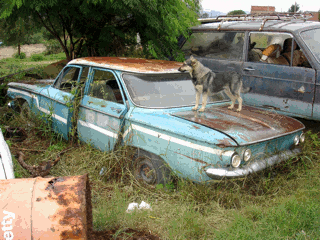 Selection of the Right Motor Oil for the Corvair
Selection of the right transmission oil for the corvair
How to polish and restore stainless and aluminum trim