junkman Wrote:
-------------------------------------------------------
> I have had excellent results using Maguire's
> cleaner / polish in the purple squeeze bottle.
> Put a few dabs on a soft cotton cloth and start
> rubbing till you get the desired results. I
> cleaned and polished a Plexiglas corner window on
> my 1963 Chrysler ambulance, and it came out
> looking like the day that it was installed in
> 1963. It took quite a few hours of polishing,
> because it was so badly scratched from years of
> being washed without the dirt and grime being
> carefully removed. I know some that do machine
> polishing of plastics, but that takes years of
> practice to do it well.
That is why the sandpaper is a better starting place, as it takes out the high down to the scratches first.
Restoration in Bolivia
Richard's Mini Pickup
Richard's Corvair
Richard's Renault Dauphine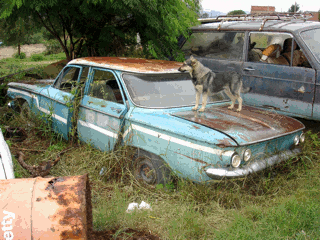 Selection of the Right Motor Oil for the Corvair
Selection of the right transmission oil for the corvair
How to polish and restore stainless and aluminum trim