Corvair Center Forum : Corvair Center Phorum
Corvair Center
Re: FC Fire Dept Truck Restoration
Date: April 11, 2018 05:01PM
Aha! Makes sense. Thanks Bob. It would be interesting to know when the change was made. Would Corvan and Greenbrier owners be willing to look for the two tell-tale bolts at the very back of the rear inside panels. If you have the brackets could you let me know and we'll look for the earliest VIN.
Steve
Re: FC Fire Dept Truck Restoration
Date: April 14, 2018 07:07PM

A big day. Finally the household hazardous waste day. I had accumulated almost 30 gallons of waste - mainly parts cleaner and diesel fuel.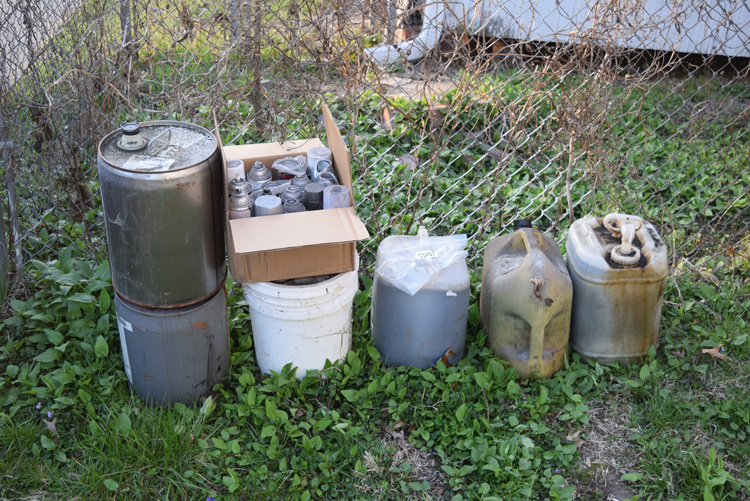 I know that is some more progressive areas there are permanent drop-off sites for Household hazardous waste. Here in Marietta, they now only occur sporadically, but generously funded by some of our local chemical companies.


I decided to install the weatherstrip on the rear doors. My advice to anyone installing weatherstrip is to make a jig that you can use to make 45O cuts.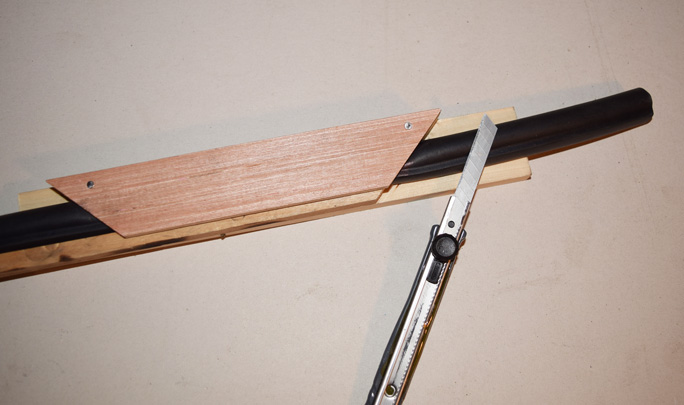 This is mine and it's essential to get good corners. Also, It's a good idea to wipe down the weatherstrip with isopropyl alcohol to remove any remaining release agent.

Something I noticed when I removed the original weatherstrip was that the corner seams were reinforced with a "L"-shaped rubber insert. I had never seen this before and did not find it in the assembly manuals, but it must be original, so I decided to reproduce it.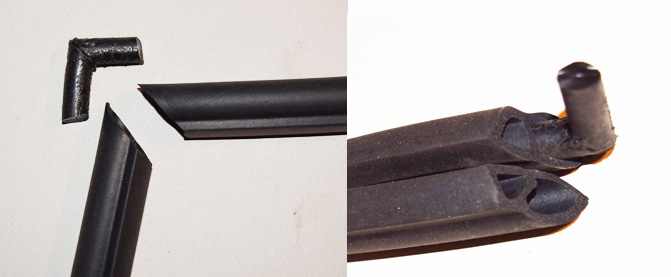 Sized to fit the larger weatherstrip inner hole, with some weatherstrip applied inside and on the cut surfaces, they work marvelously to hold the corners together while the cement dries. They are really useful to temporarily hold the weatherstrip together when making preliminary cuts. I use them to cut and cement together the weatherstrip for a door before installing it.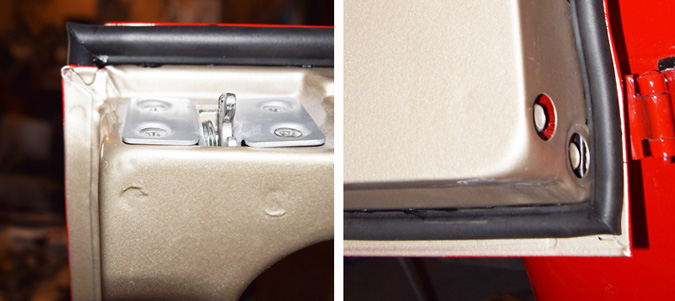 The result is nice clean secure corners. I've not seen that these are available anywhere. Is there any interest by others in using them?

A final note. One of the tricky parts of installing weatherstrip, Is applying the cement on the rubber and then not having it get stuck on something. My solution is a tall pole and a string that I use to suspend the weatherstrip as I install it.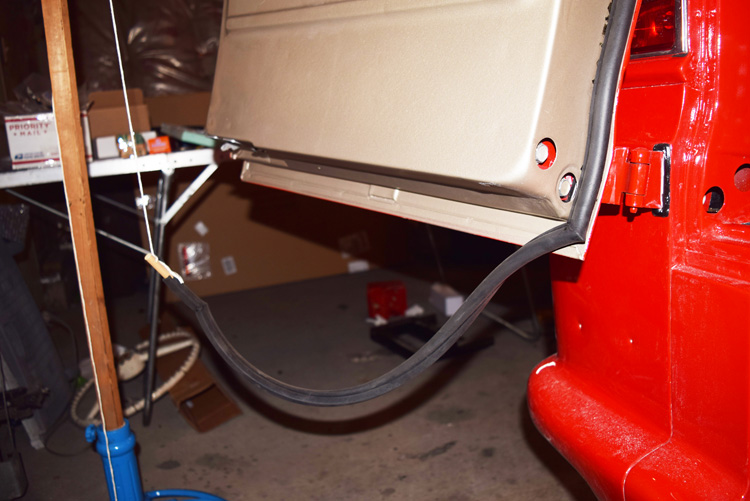 Steve

Re: FC Fire Dept Truck Restoration
Date: April 21, 2018 07:20PM

Front air vent flapper doors - today's project. Firebrier's were structurally sound but with a lot of surface rust.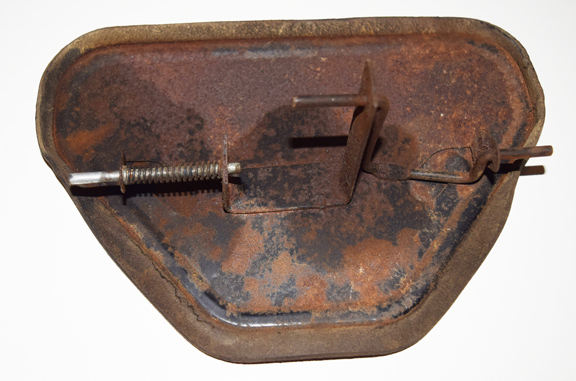 First step was to remove the old rubber seal, and then the doors were juiced in the electrolytic deruster tank overnight, wire wheeled to remove residual oxide, primed and painted. Now ready for replacement of the seals.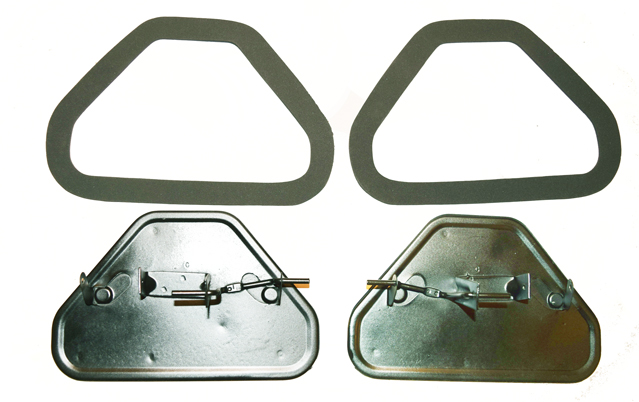 Clarks sells new rubber seals; with a note that they're easy to replace, but not so. The instructions provided are correct as far as they go. To replace the seals, you need to carefully pry apart the two metal plates that comprise doors and hold the seal in place.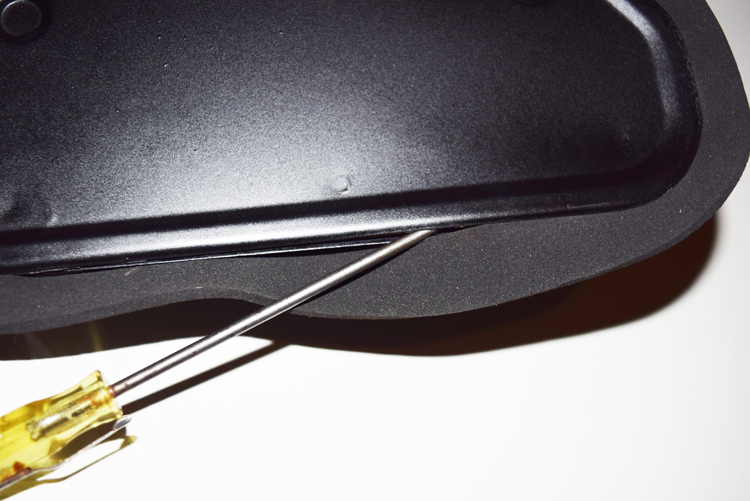 But this is a darn hard task since the metal plates do not separate easily along certain sides of the door. The task was accomplished using a couple of little screw drivers and carefully fitting in the seal while working around the door. But oddly that is where Clark's instructions end, which leaves the rubber seal extending flat from the sides of the door - which will not allow the door to close. In order for the door to be functional, the seal must be folded back upon itself at two points so that it curves away from the door in opposite directions on different edges. On the original doors the seal is cemented where it folds across, as shown in the image insert below.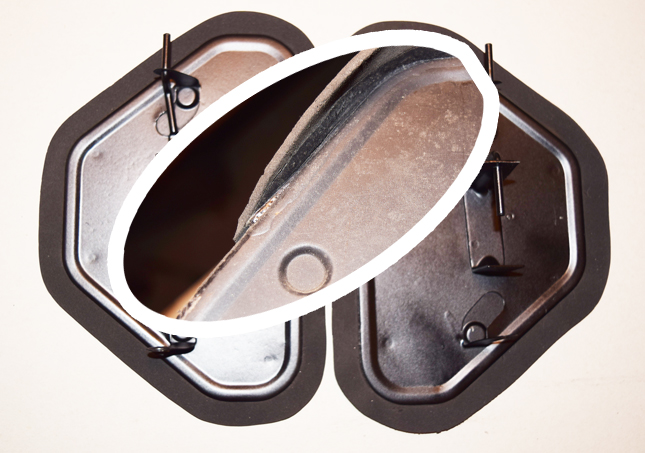 Recreating this is the tricky part. I had dealt with this problem when I restored my '61 'brier a half dozen years ago, and fortunately I still had the simple tool I made for the task.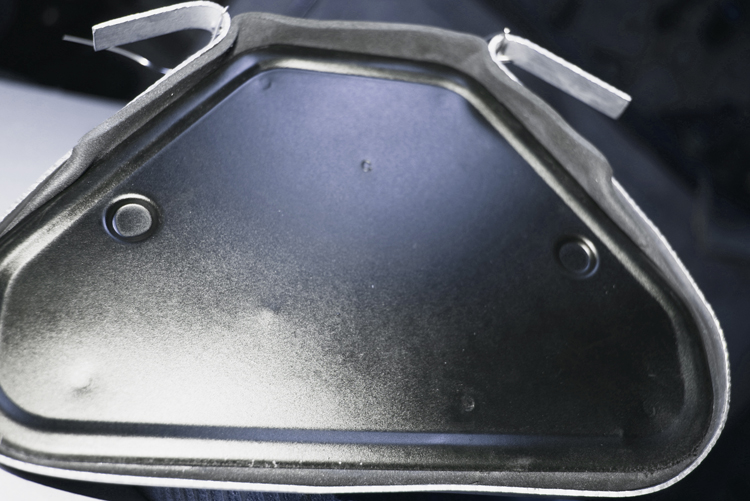 It's a 1/2" aluminum metal strip bent to follow the contour of the door then pulled tight to hold the rubber seal in the needed contour. I apply a little weatherstrip cement in the fold. I also apply a little paint along the folded edges to lock them in place (I have always used POR 15 for this because it works, but maybe any type of enamel would work as well). Here's a completed door.

.
When installed, the fit into the door opening will lock the contours of the seal in place permanently.
Steve


Re: FC Fire Dept Truck Restoration
Date: April 22, 2018 07:19AM
Easy Squeezy!
Nice work, as usual, Steve.
Amazing how much fussy work is involved in making a Corvair! (or any 1950s-60s cars)
---
Dan Davis
~ Pierce County, WA ~
CORSA Western Director
+
Corvairs NW
+
North Cascades Corvairs
+
Corvanatics
1966 Corsa Turbo coupe
~ ~
1966 140 Corsa
~
~ 1965 Monza 140/4 'Vert Sierra Tan/Fawn
~ 1964 Monza 'Vert (SOLD)
~
1960 Monza Ermine White/Red PG ++ ~ 1965 Monza 140/4 Evening Orchid w/ ivory/black interior ~ 1962 Monza Wagon 102/4 ~ 1963 Rampside/Scamper ~ 1963 Red/Greenbrier ~ 1969 Ultra Van #468
Sorry, only registered users may post in this forum.