Actually I was going to put 6 Keihin carbs on it and fab some headers ( in my fantasy) the chain drive side of the head could be machined away and the cams connected end to end and driven from one end.
I figure an XR400 makes round 30hp , so 30 x 6 = 180 HP
I as thinking there really was no reason that 3 indvidual heads would not work.
The only restriction to power is in the heads , as the pistons only go up and down. The XR only runs about 6000-7500 RPM anyway.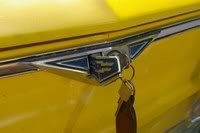 1969 Monza Coupe
1966 Nader Invader !
1966 Monza Coupe
www.vaircooled.com
I love Corvairs
Ohio