Here is how my water-methanol injection has gone from a Single Stage set up to beyond progressive.
The first installation of water-methanol injection (WMI) was a single stage system with pressure switch to turn the 200psi pump on. The turn on setting was adjusted by seat of the pants testing without causing bog or bucking at higher boost levels. Engine was getting 12-14psi boost with 2-bbl downdraft.
The modifications/improvements have continued since then with notable boost/performance gains due to programmable timing and installing the Mikuni HSR45 slide carb.
This set-up was getting over 15-16psi pretty easily with methanol "on" at 8psi.
Beyond Progressive:
It was time to plan out the new WMI system. Two stage was possible as well as progressive using controllers from AEM/Snow Performance/DevilsOwn/etc.. The decision became easier when i found a 3D programmable WMI controller (primarily designed as Boost Controller).
The
CORTEX EBC by SIRHC Labs
can be set up to control water-methanol flow based on RPM and Boost with a fully programmable table. In addition to WMI control, the EBC has a data logging feature that is very flexible but specifically allows it to input the 0-5V signal from your AFR gauge. This is
vairy
powerful when tuning exactly how much methanol fluid to spray.
The 200psi pump was retained and the original relay was replaced by a diode protected relay to energize the pump and solenoid driver. Finally a pair of high speed PWM controlled solenoids control flow at the injector. There is a blue light on the dash that urns on with pump=on and a green LED that pulses along with PWM duty cycle... very colorful!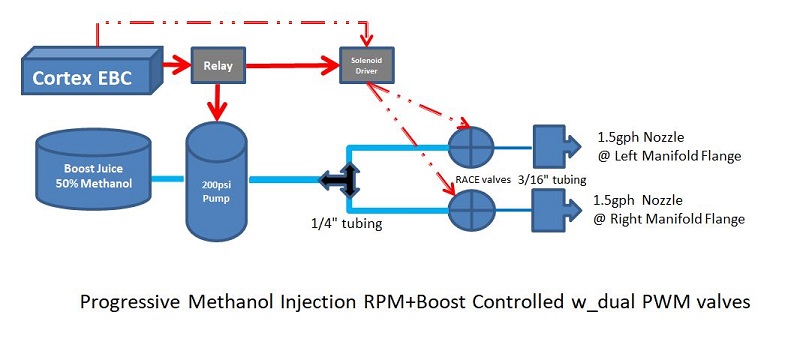 The high speed solenoids are designed to operate much like fuel injectors but with higher fluid pressure and built to withstand methanol. The
Rapid Acting Control Element (RACE) valves are from USRT
These are the fittings and RACE valves ready to be installed. The hose connections are compression fittings that seal better than push-to-connect. No leaks!!!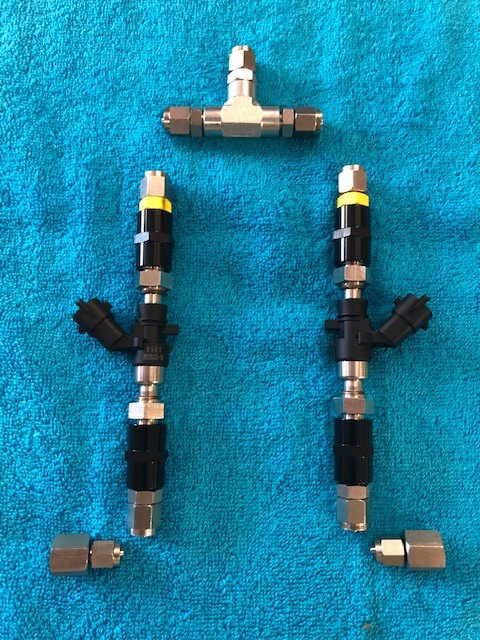 Using the Data Log function has allowed me to dial in AFR by precisely controlling the duty cycle of the RACE valves. Here is a 3D duty cycle graph that I generated based on the EBC control table. The pump turns on 100% for any PWM value.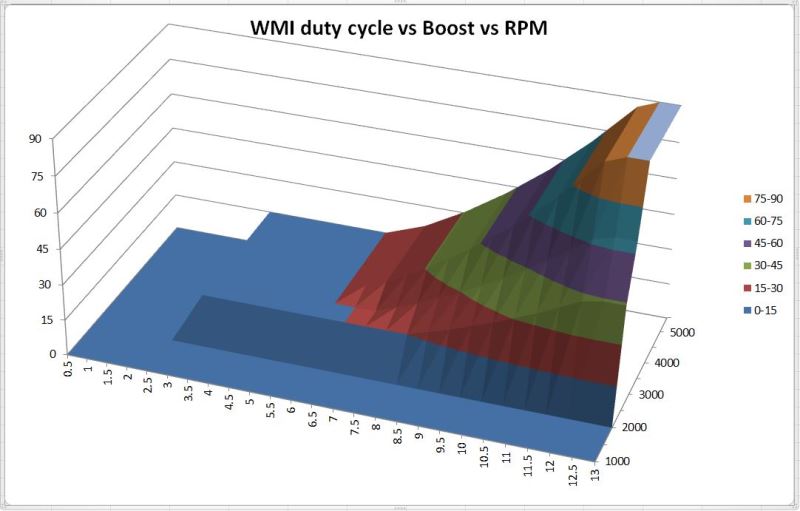 This is a sample from the data log during a test run.

Tuning continues but at this time the engine is spooling quicker, hitting 16-17psi with ease and feels like it has more power at all boost levels. Methanol injection is starting at 3psi but duty cycle is less than 90% throughout the boost curve. The target for AFR is low/mid 12 which is already achieved at low boost levels. The Safeguard is controlling any knock if i go too far on the lean side of 12.5 AFR
Ken
'62 Spyder
Florida
Edited 1 time(s). Last edit at 07/30/2022 06:34PM by 1966-Corsa-GT-180.