It takes several minutes to drain to where you should measure it. When I let my service manager change mine, he filled with what I told him, started the engine to check for leaks, and then checked the oil again a minute or so after turning the engine off. Then added til full. When I checked after ten minutes or so, I could see it was over-full.
I once fixed a problem for the Mitsubishi dealer in Bolivia. They imported hundreds of small city busses with 4.0 engines. As people started buying them, they started complaining about oil consumption, and having to add a liter every day (checked oil at the end of the day right after turning it off). They would show up at the dealer and the dealer would measure and find them 1 liter low.
Since it was the same engine as my Mitsubishi truck, I had read the manual, where it said wait 30 minutes before checking the oil. Then when people came in with the complaint, he had them sit down and drink a cup of coffee and chat for a while, then measure and find the level was full.
For any car, it is best to figure out the measuring point. Check when you turn it off, 5 minutes later, 10 minutes, etc. Then you know when it had stabilized. My Mini needs 10 minutes. Obviously, viscosity and temperature are variables.
Restoration in Bolivia
Richard's Mini Pickup
Richard's Corvair
Richard's Renault Dauphine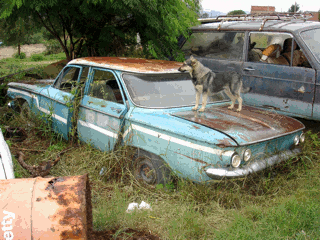 Selection of the Right Motor Oil for the Corvair
Selection of the right transmission oil for the Corvair
How to polish and restore stainless and aluminum trim