Nice pair of Corsa Crests for interior doors panels. Not perfect, with some small (micro) blisters not as obvious at normal size. Fasteners clips not included.
Both have full lengths pegs, not clipped, but one is missing the center peg. Chrome is bright and red paint has been refreshed on both.
These were installed when our 1965 Corsa was Awarded Senior Gold at the 2017 CORSA Convention.
$54.50 including shipping for pair. If paying by paypal please pickup fees on your end. USPS Money order or personal check is also acceptable. If paying by check shipping will be delayed pending deposit.
Jimc
1965 Corsa Coupe, two owner history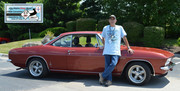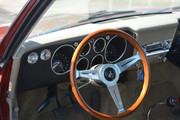 HACOA Member
CORSA 2017 Concours Senior Gold Award
AACA 2015 Award
Edited 1 time(s). Last edit at 02/19/2021 10:09AM by MattNall.