joelsplace Wrote:
-------------------------------------------------------
> Great information, thanks!
>
> 2 questions -
>
> 1) I picked up a '64 Corvair manual I have laying here and it calls for SAE 80 MIL-L-21058. Is it possible that Red Line crossed that to GL5?
>
> 2) You mention Dexron III for automatics. Why not VI? I haven't seen III for sale in a long time and from the limited reading I've done VI is better in every respect. I've been using it in all my automatics that call for any kind of Dexron from my Pettibone forklift to Powerglides and my wife's Outlook. I think the first and longest I've used it is in what was a really weak TH200 that now works great after 4 or 5 changes with VI.
On the Military spec, That would be 2105B (rather than 8). This is from a real old powerpoint presentation no my hard drive:
GL-4 MIL-L-2105B
GL-5 MIL-L-2105C
So they have assumed that GL-5 covers GL-4. And for gears, it does. They military spec does not cover synchronizers.
For the ATF, GM stopped licensing the Dexron III when they came out with the Dexron VI. That means that all manufacturers of Dexron III (which also covered the Mercon 4 spec) modified their product names to Dex/Merc, or some other variation. It is a formulation that satisfies power most steering systems and tones of agricultural and construction equipment, excellent as a multigrade hydraulic for winter equipment (log splitters), hydraulic lifts, and other things.
Dexron VI is required for newer transmissions that run much higher temperatures, and need to be able to pump fast and hard at cold temperatures. Here are the cold flow pumping characteristics of many of the ATFs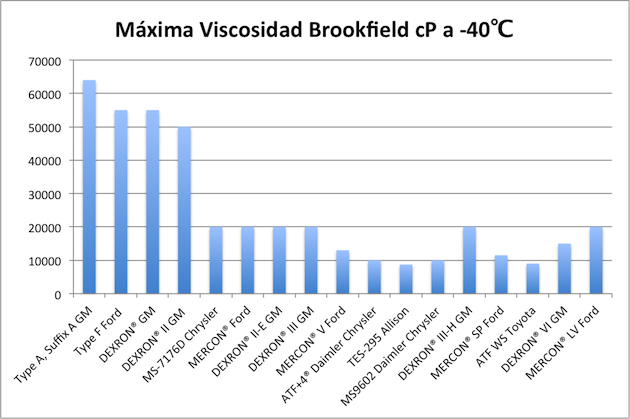 You can easily use Dexron VI in any earlier transmission, but since the the Corvair transmission does not operate (to my knowledge) over 70ºC, its main advantage over Dexron III would be for real cold climates. Dexron VI could also be used for longer periods of time, if not contaminated.
BTW, many of the products designed for Dexron VI applications are modified to also meet the Toyota WS, which pumps better in cold temperatures, as you see in the graph.
Restoration in Bolivia
Richard's Mini Pickup
Richard's Corvair
Richard's Renault Dauphine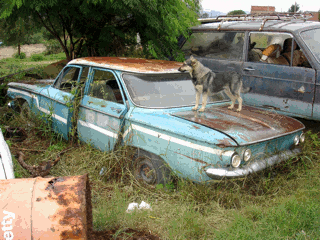 Selection of the Right Motor Oil for the Corvair
Selection of the right transmission oil for the corvair
How to polish and restore stainless and aluminum trim
Edited 1 time(s). Last edit at 05/01/2020 07:12AM by richard1.