Tuning update:
This part of optimization is based on previous work and the article by Robert E. Mathew for an SU carb published in 1986 Corsa Tech Guide. Robert described how the profile of the SU jet needle tapered section could be modified and reduced to increase the annular area between the needle and the fixed jet. For the HSR45, the needle and needle jet define this fuel area (as shown in diagram) that governs the fuel flow until the main jet area restricts flow. The main jet sits below the needle jet immersed in the fuel bowl.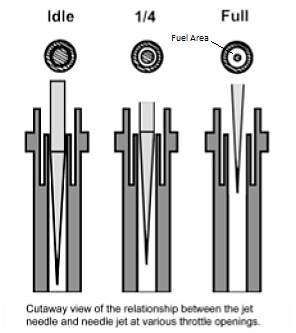 The graph below plots the fuel area vs the needle position. The needle is straight from 0-35mm, the diameter tapers down to the smallest diameter at 65-70mm length. The tip of the needle does not lift out of the needle jet at WOT. The original needle/needle jet combo [Y-8 w_2.97] was rich on low end and lean in mid/top end. After re-reading the Mathew article a few times, I started the needle modifications and now have a more aggressive taper on the 2.98 needle (2.98v1) that combines with a smaller Y-6 needle jet to produce the solid line curve. I have another 2.98 needle and will attempt to profile that one to achieve "optimized" top curve (if further testing so indicates). The main jet clearly restricts flow at larger throttle openings. The 210 main jet was going very lean near boost so now using a drilled out 249 main jet (0.098"). The max main jet size is 0.106" which offers no restriction to annular area.
Idle after warmup = AFR 12.8-13.2
No load at 1/8-1/4 throttle = AFR 12.5-13.2
Acceleration at 1/2 throttle = AFR 12.5
Just before boost at 3/4-WOT throttle = AFR 12.4-12.5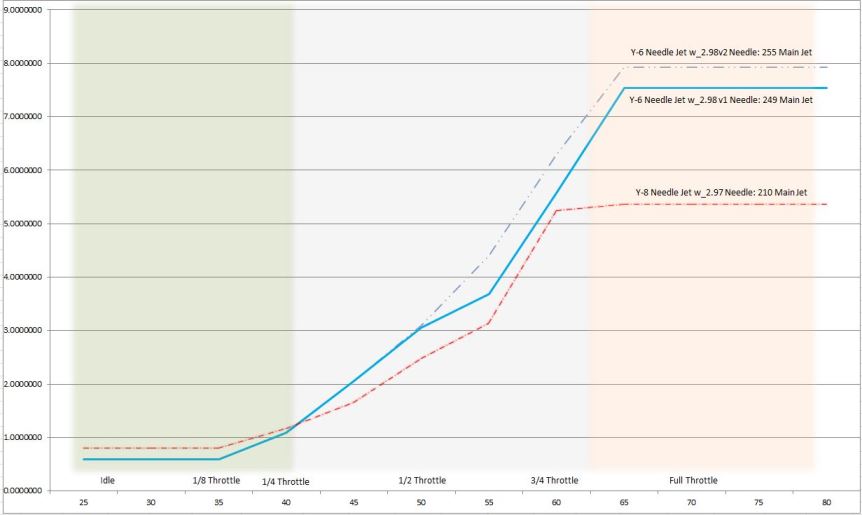 Another tuning modification that can be made for getting the Idle/Cruise AFR up into the 14.6-15.5 Lean Cruise range is to increase the arch of the slide cutaway for increase air flow. Testing will decide.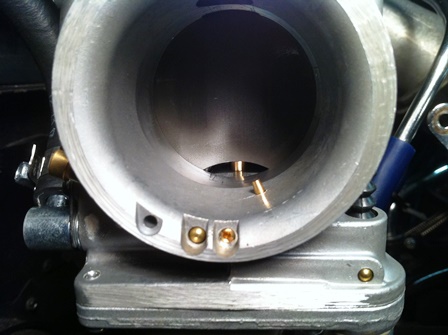 Ken
'62 Spyder Coupe
Florida